Cramer Petrol Self Propelled Sweeper with B&S Motor 2.8 kW Domus E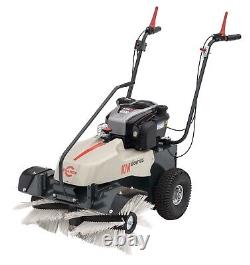 Cramer Petrol Self Propelled Sweeper with Honda GCV 160 engine KM 80 H. Cramer Petrol Sweeper Self propelled. The speed of the self-propelled, hydrostatically driven KM 80 H can be adjusted by thumb and finger using cruise control. Lockable steering wheel for effortless and precise directional stability. Brush (swivel range): adjustable (left, middle, right)- Steering wheel: 360 freely rotatable- Sturdy steel construction for long service life- Working width 80cm- Dimensions (L/W/H) 172/ 80/ 115 cm- Weight 111 kgClick here to view our extended range of Handy Garden Machinery.
The compact KM Domus is ideal for private households, both as a cleaning machine. At barely more than 60 kg, it can be easily guided by its ergonomic, forward-folding steering bars. The freewheel bearings of the drive wheels make it extremely easy to manoeuvre, allowing you to easily avoid obstacles. The jockey wheel is equipped with a brake.
The KM domus E comes with electric start. Simply press a button and start immediately - more than 50 times from a fully charged battery. Start immediately at the push of a button with and electric starter. Brush, adjustable (left right and middle).
Steering wheel 360 degree freely rotatable.

---