Honda Danarm Kaaz LM5360HXAR-PRO-HS Perfect Lawnmower Self Propelled With Clutch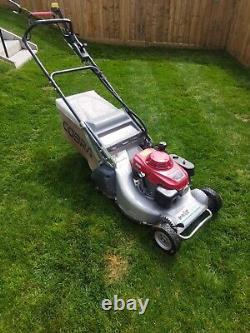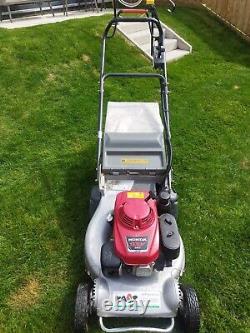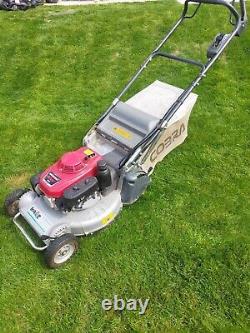 Not long had mower, it's been amazing..... Self propelled/ clutch engagement blade / large grass box / rear roller. You will see from photos very little use and in excellent condition.
Please contact for questions / videos etc. The Danarm LM5360HXAR-PRO-HS Rear-Roller Lawnmower is a high-end machine that offers the sort of premium-features and heavy-duty build-quality that are vital in a mower that's going to be used day-in, day-out.
An impressively fast operator over substantial areas, it has an expansive 53cm cutting-width and a high-speed transmission, the latter of which delivers a huge 12% increase in ground-speed compared to the standard LM5360HXAR model. So as to ensure the Danarm LM5360HXAR-PRO-HS can withstand the abuse that's bound to be meted-out by the commercial landscaper, it's been equipped with a heavy-duty front bumper; a rust-resistant alloy mower-deck; reinforced handlebar support; and a steel deck-liner. It incorporates a blade-brake clutch, so you can stop the blade without cutting the engine for the safe crossing of paths, drives and other non-grass areas; and it features seven stage height-of-cut, which means you'll find it easy to deal with varying grass lengths (the range is from 15 to 77mm). Fitted with a heavy steel rear-roller, the Danarm LM5360HXAR-PRO-HS will lay-down the sort of pronounced lawn-stripe that's so characteristic of the classic British garden. Fan-assisted bagging ensures that even damp grass will be driven through the discharge-chute without clogging; while a high-capacity 75-litre catcher means breaks for emptying will be few and far between.
Other features include a world-class Honda engine for rock-solid reliability in the face of intensive use; and a shaft-drive for superior durability and optimum torque transfer (compared to belt-driven models). Honda OHV engine for superior efficiency, super-smooth operation and drastically reduced emissions. Shaft-drive transmission maximises torque for optimum performance in tough conditions. Fan-assisted grass collection ensures a thorough pick-up.
Blade-brake clutch - stop the blade and keep the engine running! Aluminium alloy deck for a lengthy, rust-free service life. Heavy, full-width steel rear-roller for a superb striped finish. Commercial-duty features throughout - steel deck-liner, front bumper and extra-thick handles with support brackets.
Large capacity grass catcher for fewer time-consuming emptying-stops. Extra-wide cut - cover large areas fast!

---