Honda HRX 476 HY Petrol Lawnmower with Grass Box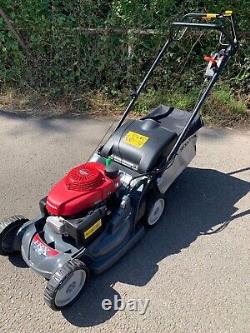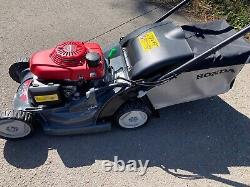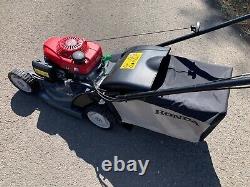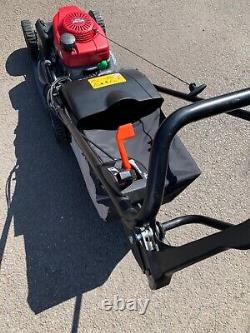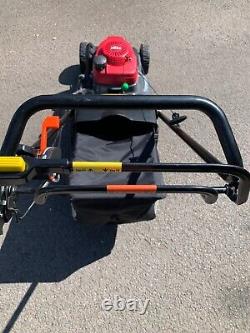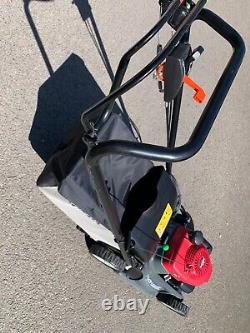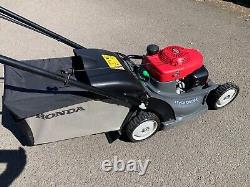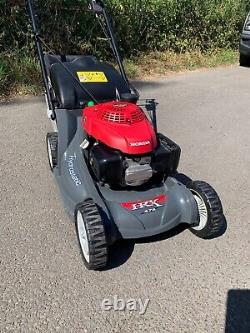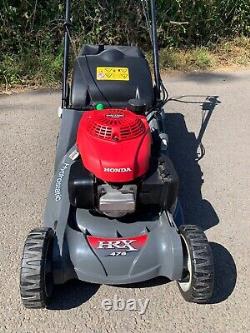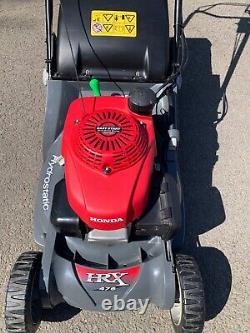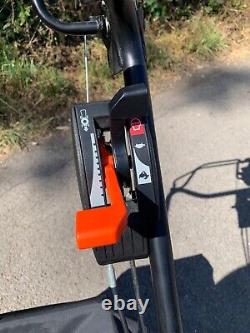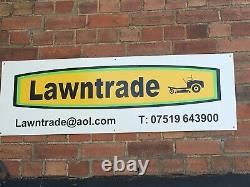 Honda HRX 476 HY Petrol Lawnmower with Grass Box. This is a very low use machine that has been privately owned from new. It can collect the grass and also mulch with a flick of a lever. Fitted with the all important blade brake clutch so allows you to empty the grass bag whilst the engine is running. In very nice original condition this machine has been run on Aspen fuel all its life.
It is powered by an ultra reliable OHC 4-stroke Honda GCVx170 167 cc engine which packs it full of power for an excellent performance. The engine combined with the revolutionary double blade design means less noise making it more environmentally friendly. The integrated auto-choke system means starting this machine couldn't be easier.
It provides a perfect start no matter what the weather conditions. With Rotostop, you are able to let go of the handle, and the engine will continue to run whilst the blades stop, enabling you to empty your grass bag, or move across driveways and paths with safety and peace of mind.
With variable speed hydrostatic drive you can cut to perfection with blades which will turn at a constant speed so you'll get the perfect grass cut no matter how fast or slow you are mowing the lawn. His lawnmower's speed is adjusted by a lever on the upper handle and gives you smooth, stepless speed control. The HRX 476 HY has twin blades which create much smaller clippings for much more efficient grass collection and for improved mulching. It features a 3-step adjustable handlebar to find the ideal height for each individual user, maximising comfort levels. The handles also fold down completely in order to fit perfectly in the garden shed without having to worry about space. The Versamow system makes it very simple to collect the clippings in the large 69 litre collection bag, mulch them, or both at the same time thanks to just one single lever. The grass flow is optimised by the cutter decks aerodynamic design. It's easy to vary the ratio collected or mulched allowing you to choose how you manage your grass clippings. The cutter deck made from Polystrong®/ Xenoy®. It's harder and tougher than a rhinoceros, but a lot easier to handle. Specially developed by Honda for HRX lawn mowers, it is created as one complete and super-smooth unit, designed to improve the mower's collecting performance. It's so much lighter too, which makes the HRX easier to handle. This special cutter deck is light, resistant to UV rays, and will not rust. It also contributes to keeping the noise level low while in use and because the grass cuttings have less chance of sticking to it compared to steel or alloy, it's easy to keep clean.
Blade efficiency and strength are important, but safety levels need to be maintained too. If a blade breaks or becomes unbalanced it can be a danger. These blades are designed to twist, not break, if you're unlucky enough to hit a solid obstacle while mowing.
This Honda innovation not only increases safety, it will also prevent further damage to the engine and the cutter deck. Finer clippings for a finer lawn. The specially designed offset MicroCut twin-blades work together to cut the grass cuttings into ultra-fine particles. Recycling these clippings back into your lawn creates a natural fertiliser, which will eventually produce an eye-pleasing greener lawn.
Finer clippings take up less volume in the bag too, so you can mow much further before you have to empty the bag. With a single lever, Honda's VersamowT system will either collect the grass cuttings into the bag or finely shred and blow them down into the lawn to create a natural fertiliser or the perfect mix of both. An adjustable window situated between the cutting area and the grass bag that can be operated easily by hand.
There are five fine settings for our VersamowT type mowers that can be positively selected by hand. No tools or attachments are needed. By gradually opening or closing the sliding'window' built into the cutter deck you can control the amount of grass left behind on the lawn. The Honda HRX 476 HY utilises Honda's Roto-stop® technology.
It's a safety feature that allows you to disengage the blade without having to cut the engine. That means you don't have to stop and restart it every time you go over a gravel pathway or when it's time to empty the collection bag. Roto-stop® is operated via a hand control button positioned on the HRX handle. For a greener lawn you have to get the cut spot on. You should only cut a blade of grass one third of its length for healthier growth.
The adjustment is easy with the HRX 476 HY mower. Simply take hold of the handle and press the release button. You can then lower or raise the deck evenly over all four wheels for an accurate cut. Once you've got the height absolutely right for the length of cut your lawn will start to look and feel much better, for longer. There's another benefit to this too - you won't be constantly stopping and emptying the bag by cutting more than you actually need to.
All HRX mowers have high airflow collection bags and dust covers. Airflow is generated within the cutter deck by the rotating blades. Air is drawn into the cutter deck and directed through to the collection bag taking all the grass clippings with it.
This is important for the collecting process, with the increased air pressure being directed through to the collecting bag at the rear, taking the grass cuttings with it. Honda created a special material for our collection bags that's ultra-fine. It maximises the collecting process without affecting the airflow. An additional dust cover stops even the finest dust particles from getting through. You won't find a cleaner and more efficient method anywhere else. HRX mowers have a quick and easy-to-release handle height adjustment. Mowing for a long time with your hands and arms held too high or too low can be a pain in the neck. For better comfort, there's a simple hand adjustment that allows you to position the handles to suit your height. No tools needed - just set them to your height and away you go. The handles fold neatly down when not in use, and are attached to the cutter deck via an innovative Honda design. They will not flex while you're using them and they take up very little space in storage.
Honda's R&D team have designed a patented low noise blade -0.5dB(A) compared to traditional blades. With a combination of engine and cutter deck design, its noise level is 30% under the current EU standard. 167 cc OHC 4-Stroke Honda GCVx170 petrol engine. Noise Value - Sound Power Level dB(A). Dimensions (L x W x H).
1,610 x 530 x 1,035 mm. This item is in the category "Garden & Patio\Lawn Mowers, Parts & Accessories\Lawn Mowers". The seller is "lawntrade" and is located in this country: GB. This item can be shipped to United Kingdom.
Propulsion Type: Self-Propelled
Power Source: Petrol
Type: Push Lawn Mowers
Brand: Honda

---