Mountfield Empress 46 Li Freedom 500 4-in-1 Self-Propelled Cordless BARE UNIT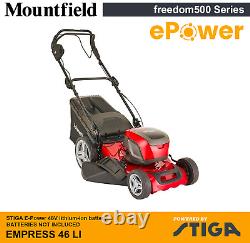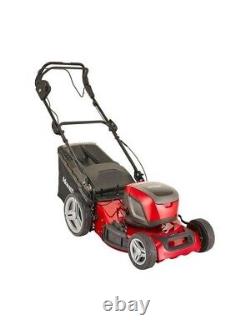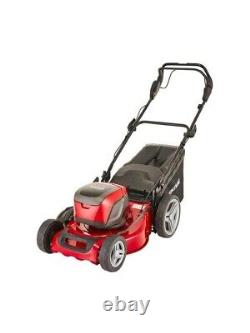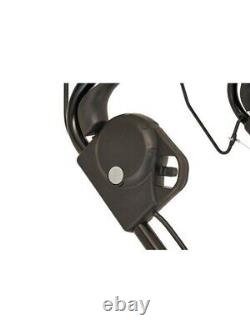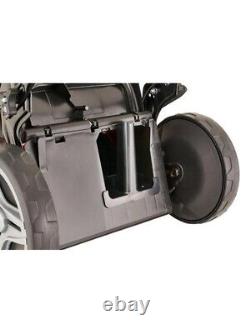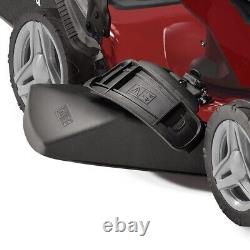 The Mountfield Freedom 500 Empress 46 Li Lawnmower is perfect for large gardens. The self-propelled Mountfield Empress 46 Li has a fixed forward speed of 3.7km/h, offering a wider cutting width along with 4 cutting methods making it the perfect mower for bigger outdoor spaces.
The Empress 1300W brushless motor offers significantly more power to drive the larger cutting deck and self-drive function, while delivering powerful and reliable performance. It is also a 4-in-1 lawnmower that gives you the choice of either collect the cuttings in the large 60-litre hybrid grass collector with full warning indicator, side or rear discharge the cuttings or mulch them to add essential nitrogen-rich fertiliser back onto the lawn. Other features include centralised cutting height adjustment and 6 different cutting height positions ranging from 22-80mm, 46cm cutting width and robust steel chassis - making the Empress 46 Li reliable and durable and ready to tackle any type of lawn.
Batteries and chargers are available separately allowing you to choose the most suitable combination for your lawn. The new Mountfield Freedom 500 battery powered range of garden tools and mowers offer all the power of petrol but with the convenience of cordless. The range is powered by STIGA E-Power 48V Lithium-ion battery technology with interchangeable batteries and offers lightweight and ergonomic garden tools for all your gardening needs.
Powered by STIGA E-Power 48V lithium-ion battery. 22-80mm cutting height range / 6 positions. Part of the Mountfield Freedom 500 range.
4 in 1 cutting system. Collect, Mulch or Rear Discharge. The engine on this self propelled lawnmower, provides drive to the rear wheels, as well as the cutting blade, so you don't have to push the mower, making it easy to use, especially on sloping ground. 2x 4AH Batteries and Duel charger.
These lawnmowers are designed to cut grass no longer than 12cm at the time. Please use a strimmer before using the lawnmower if the grass is longer than 12cm. Should the grass be longer than the specified length, the blade mounting boss will shear off, preventing further substantial damage to the engine/crank. Also, if the blade hits a hard surface, ie a stone, concrete edge, tree stump, the blade mounting will come off, this is as well a safety feature to prevent further serious damage to the engine. We can supply the necessary spare parts to repair the damage, at cost price.

---